What (and how) to effectively stage.
Home staging is a must in today's real estate market. Potential buyers want to walk into your home and envision themselves living there. Thomajan & Ladner Group have you covered when it comes to preparing your home for the market. We will schedule a pre-listing walkthrough and stage your home in a way to boost ROI as a part of our listing services.

Spruce Up Your Landscaping
Homebuyers judge books by their covers because a good cover usually indicates a good interior. Your home's green spaces are often the first things people notice. Buyers want to see well-maintained landscaping and attention to detail.

​​​​​​​The first step of staging your outdoor space is cleaning up your lawn. Remove branches, weeds, and anything that doesn't look pretty. A green lawn is better than a brown one, so make sure you're watering it regularly. If you don't already have an established "landscape," head to your local garden center. They'll help you choose a few flowers and plants that will give your home the boost it needs. The average ROI of landscaping is 100%, so don't hesitate to invest in your outdoor space.
Update the Bathroom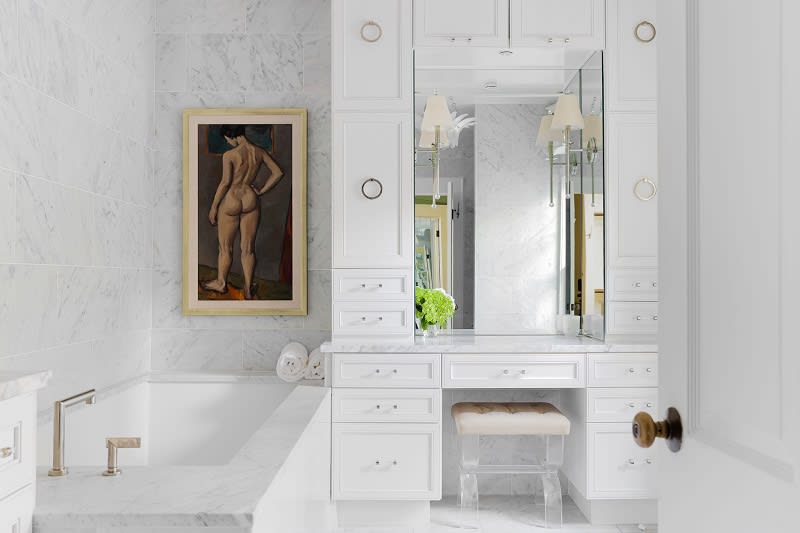 Our bathrooms take a lot of wear and tear, so it's no surprise that a flawless bathroom is key to buyers. You'll need to scrub the room from top to bottom, making sure your tiles and caulking shine. Paint the room a soothing color, like an off-white or beige. Recaulking your tub is an easy way to make it look new, as is grouting your tiles. 
If you're willing to invest more, consider working with today's trends. Soaking tubs are having a moment and do complete the modern look. Buyers are also looking for smart toilets, ample built-in storage, and large tiles. A bathroom renovation usually yields a recoup rate of about 67%, making the investment worthwhile.
Amp Up Your Kitchen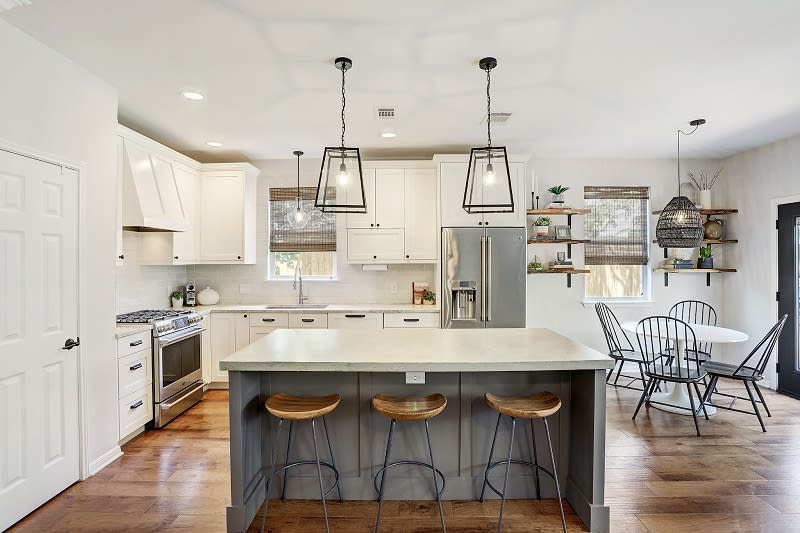 Similar to the bathroom, the kitchen takes a lot of wear and tear and is a sticking point for buyers. This is one of the most important rooms that potential buyers will want to see, so make sure it sparkles! You'll need to give the space more than just a casual clean.
Maximalism is today's design trend, and dark cabinetry is having a moment. You can sand down your current cabinets and replace them without much hassle or expense. Induction stovetops and glass countertops are very popular today, as buyers appreciate modern stainless steel appliances. 
Depending on how much you're looking to spend, a minor kitchen remodel can yield a recoup of over 80% during the staging process.

Remove Personal Touches
The point of staging is to create a relatively neutral space for buyers. That means decluttering to the max. Start by deciding what's trash and what's worth giving away. Then, go through and determine which personal touches are too personal. Some family photos are fine, but an entire wall of them might distract visitors. You'll also want to tuck away children's toys or pet paraphernalia.

When it comes to your master bathroom, take away any towels or personal products.

​​​​​​​You want people to notice the bare bones of your home, which means highlighting its natural pluses (lots of storage space, for example). A thorough decluttering can increase your home's ROI by 2-5% — these numbers may seem small, but if your home is worth a good amount of money, they're nothing to sneeze at!

Improve Your Decor
People often think staging a home means eliminating all of its charms. While neutral is undoubtedly the name of the game, it doesn't have to equate to boring. Catering to today's trends might even make your home stand out.

​​​​​​​Maximalism is making a comeback, so look for bold furniture and accents — colorful pillows, patterned wall prints, round furniture. These pieces will help your home sell and will likely make your future home look even better. These minor updates can yield a 66% recoup, so embrace the trends!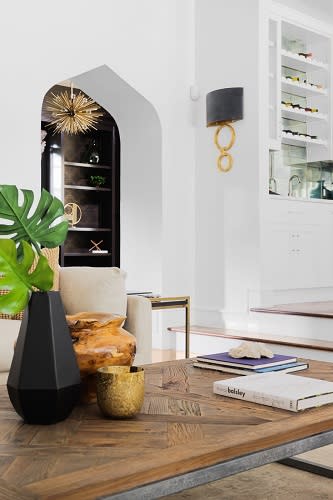 Boost Curb Appeal
In addition to landscaping, your home's exterior is one of the things people will notice right away. You want your home to sparkle! Look out for chipped paint, broken shutters, or out-of-date awnings and hardware. Freshening the paint on your trim will make the house look crisp and more uniform. You should also give your front walkway and steps a power wash to bust through any dulling dirt and grime.
Today's buyers like to see large, modern home numbers and brightly colored doors. An orange, teal, or purple door may be just what your home needs to pop. You should also consider replacing your mailbox if it's damaged or out of date. These are low-cost DIY tasks that contribute to making your home look coordinated and welcoming. The average ROI of these exterior staging improvements is about 95%.